School opens for children on Tuesday 2nd September.
Welcome to St Joseph's Catholic Primary School in Keighley
Mrs S Long
Headteacher
Building a community of excellence with God's guiding love
Our School Prayer
God Our Father, bless our school,
Bless our teachers, bless our friends
And bless each one of us.
May we work and play together;
Always glad to help each other.
May we live and grow together,
Happy in your loving care.

Amen
Presenting a cheque at Leeds Cathedral for the money raised during Lent for The Good Shepherd Appeal.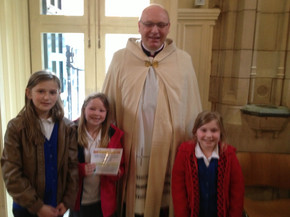 stjosephs_kly @stjosephskly
18 Jul This week in Reception, they have made a stained glass window inspired by David Hockney. http://t.co/5oyytUxcOC
18 Jul This week in Nursery, they have been making Yorkshire landscapes by weaving. http://t.co/fcMwNDWPKu
17 Jul I just posted Introducing Digital Leaders 2015, read it here: http://t.co/5WrPEQjRIK
Winmarleigh Hall 2014 Pictures