MacMillan coffee afternoon in school from 1.45pm Friday 26th September. All welcome.
Spaces are available at table tennis club on Friday after school. Please ask for details at the school office.
Welcome to St Joseph's Catholic Primary School in Keighley
Mrs S Long
Headteacher
Mission Statement
Building a community of excellence with God's guiding love
Our School Prayer
God Our Father, bless our school,
Bless our teachers, bless our friends
And bless each one of us.
May we work and play together;
Always glad to help each other.
May we live and grow together,
Happy in your loving care.

Amen
Presenting a cheque at Leeds Cathedral for the money raised during Lent for The Good Shepherd Appeal.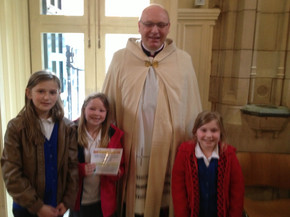 stjosephs_kly @stjosephskly
22 Sep Today Reception have talking about creation. We looked outside to see what God made. http://t.co/TT5rg07nNW
19 Sep 2GW found out that a T-Rex tooth was the size of a banana and a Triceratops horn was 1 metre tall! http://t.co/Wyno0YJihe
19 Sep In 2GW we have been hunting for dinosaur facts in information books. http://t.co/qDRPOXBhkG
Winmarleigh Hall 2014 Pictures