October is Readathon month at school. Please encourage your child to take part in our sponsored read.
Money raised will be going to charities for seriously ill children. Happy Reading!
Welcome to St Joseph's Catholic Primary School in Keighley
Mrs S Long
Headteacher
Mission Statement
Building a community of excellence with God's guiding love
Our School Prayer
God Our Father, bless our school,
Bless our teachers, bless our friends
And bless each one of us.
May we work and play together;
Always glad to help each other.
May we live and grow together,
Happy in your loving care.

Amen
Presenting a cheque at Leeds Cathedral for the money raised during Lent for The Good Shepherd Appeal.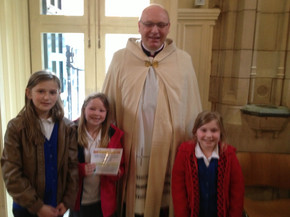 stjosephs_kly @stjosephskly
09:33 We are learning numbers 1 to 5 in nursery this morning. http://t.co/1DeF2OkP4G
1 Oct Reception have been finding numbers that are more and less than another number. We also made number lines. http://t.co/wmN1wLgDpI
30 Sep 5EJ have had great fun with beans today in their best picnic plate investigation! Tomorrow your are all washing up!
Winmarleigh Hall 2014 Pictures